Quick Fact:
Each year in Canada, we use an average of five million tonnes of road salts as de-icers and spend more than $1 billion on winter maintenance. Approximately 70 percent of the road salt spread on urban roads is retained in a watershed.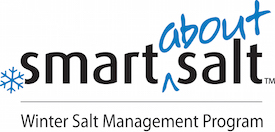 Road salt helps keep roads, driveways and sidewalks safe but it can also result in contamination of drinking water sources. Sodium and chloride in de-icing materials is washed into waterways and ends up in groundwater too. Road salt use is increasing due to climate change, ever expanding paved areas as well as societal expectations for bare roads.
Fortunately, there have been great advancements in "smart salt practices" that have proven effective in achieving improved environmental protection without compromising safety. They involve such principles as using the right material at the right time in the right amount for maximum effectiveness. In Ontario, the majority of road salt used is handled by road authorities such as municipalities and the Ontario Ministry of Transportation, but businesses and homeowners also use and store salt. Road authorities and private contractors responsible for winter road maintenance in our region are being urged to use "smart salt practices" and have Road Salt Management Plans. We can all help by following these Winter Tips to reduce our salt use on private property.